You can't go wrong when visiting Hilton Head, as the island is full of natural beauty and many activities. This small island is one of the top vacation destinations in South Carolina, offering plenty of opportunities for relaxation and exploration. But what if you want to stay in Hilton Head for a few days? If that's the case, don't worry; we have the 5 best areas to answer your question, "What is the best area to stay in Hilton Head?" for the perfect vacation experience!
Why Should You Stay on Hilton Head Island?
If you don't know about Hilton Head Island, it is an amazing coastal getaway in South Carolina, offering plenty of outdoor activities and stunning scenery. This small island is renowned for its beaches, golf courses, and picturesque bike paths. It is a place where you can experience natural beauty while still accessing world-class amenities.
Hilton Head has activities like biking, kayaking, canoeing, and surfing. The island also has many great restaurants, shops, and galleries to explore.
What is the Best Area to Stay in Hilton Head? 5 Best Areas
These are the 5 best areas to stay in Hilton Head for an unmatchable experience:
1. Sea Pines
The Sea Pines Resort is a prime destination for families looking to make their next vacation an unforgettable experience. It provides 5,000 acres of oceanfront on the southernmost point of Hilton Head Island and offers different activities for all ages. From championship golf courses to horseback riding, beachside villas, and a petting zoo, you will not run short of activities during your stay at Sea Pines Resort.
We highly recommend it to golfers as they can enjoy the three championship courses: Harbor Town Golf Links, Heron Point by Pete Dye, and Atlantic Dunes by Davis Love lll. The popular RBC Heritage tournament is also hosted here every April, so don't forget to try it if you are in town.
Visitors staying in Sea Pines can also use a seasonal trolley service that can take you directly to Harbour Town, where you will find various restaurants and bars right by the harbor.
2. Coligny
Enjoy a day of sun, sand, and delightful activities in Coligny! Situated on the edge of the Atlantic Ocean, this coastal town is the perfect place to experience a day of relaxation and exploration.
The most popular attraction in Coligny is its beach park, Coligny Beach Park. You will find yourself in paradise with its sandy shoreline, outdoor showers, and amenities ranging from restrooms to lounging areas. Enjoy a leisurely walk or bike ride along the boardwalk while taking in stunning views of the Atlantic. And don't forget to watch out for jellyfish from June to August!
Looking for more adventure? Take advantage of Coligny's great links with other towns and villages on Hilton Head Island. You can even shop at Coligny Plaza or drive your "creek cat" boat tour. Golf and tennis lovers can enjoy the courts at Palmetto Dunes Oceanfront Resort.
3. North Forest Beach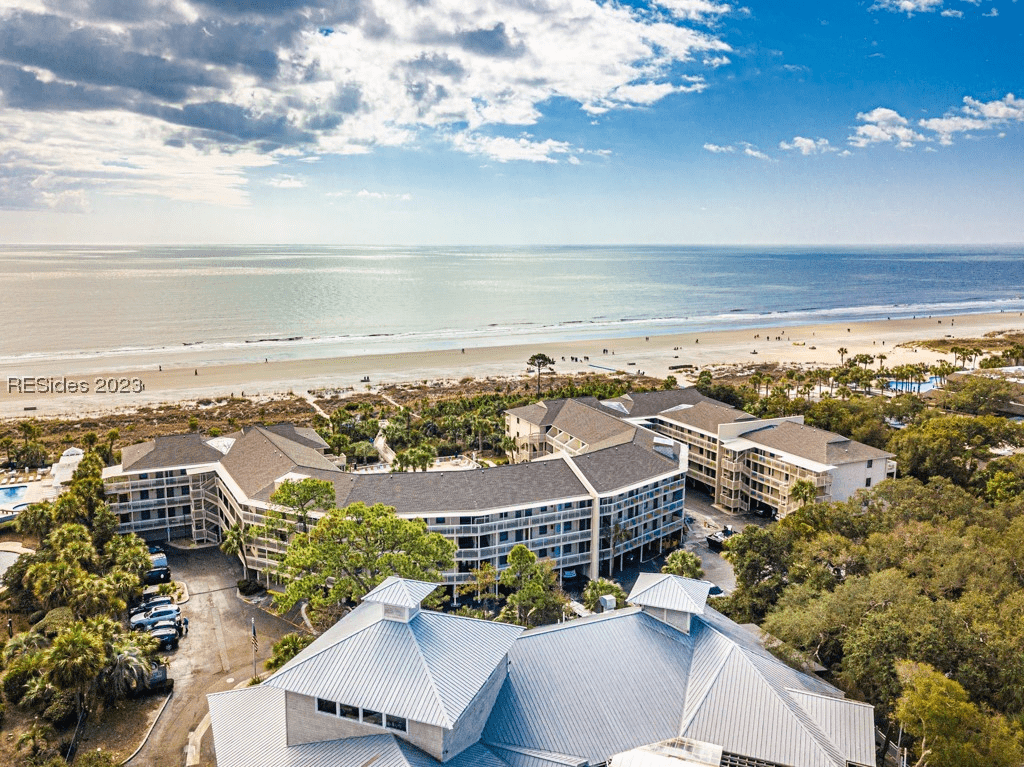 You will not fall short on entertainment in North Forest Beach! This area is located on a one-mile stretch of beachfront, allowing you to swim in the refreshing waters for a day. And if you are looking for something a little more exciting, there are plenty of other activities to participate in.
Stroll around the area and explore outdoor shopping centers like Coligny Circle. This spot is excellent for souvenirs, clothing, or even a window shop. You can also take advantage of the many restaurants nearby, offering a wide range of cuisines and delicious dishes sure to please even the pickiest of eaters. Not just that, you can also enjoy live entertainment, such as concerts and shows.
4. Beach House Holiday Inn Resort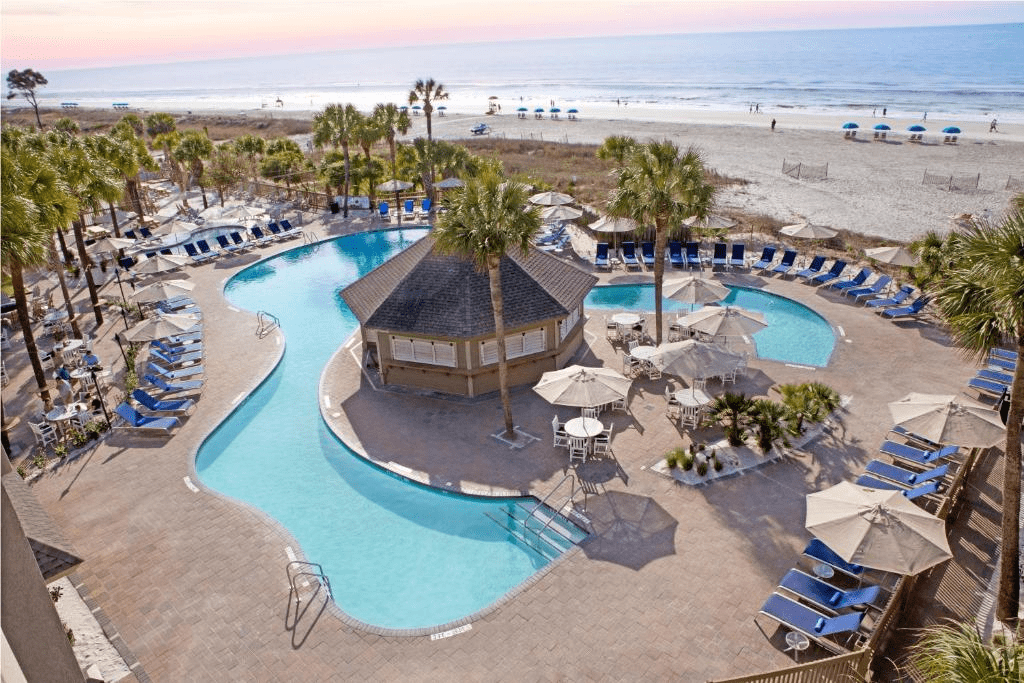 Stay a while and make memories that will last for a lifetime at Beach House Holiday Inn Resort. Located in one of the most desirable spots on the island, it is the ideal base to experience all the sand, sunsets, and attractions Coligny Beach offers.
Unwind in true island style with a dip in the oceanfront outdoor pool, or take a break from the beach to dine at The Porch Southern Kitchen & Bar, where you can enjoy delicious southern comfort fare. Afterward, head to the Tiki Hut for some live music and cocktails.
There is even a convenient pool and beachside shack for quick meals. After a day of fun in the sun, retire to one of the many cozy rooms, each equipped with a flat-screen TV and blackout shades, so you can sleep in without the sun's rays waking you.
5. Forest Beach
Forest Beach is still close enough to the ocean to get there in minutes despite being a bit more inland than other beachside neighborhoods. It is an excellent choice for those who want to enjoy the beach and is close to restaurants, groceries, and shops. Here, visitors can spend time at the beach during the day and explore local shops in the evening.
Forest Beach's shopping plazas offer unique souvenirs and gifts you can bring home. So make sure to add this neighborhood to your itinerary if you want a bit of everything!
Best Car Service to Travel Around Hilton Head Island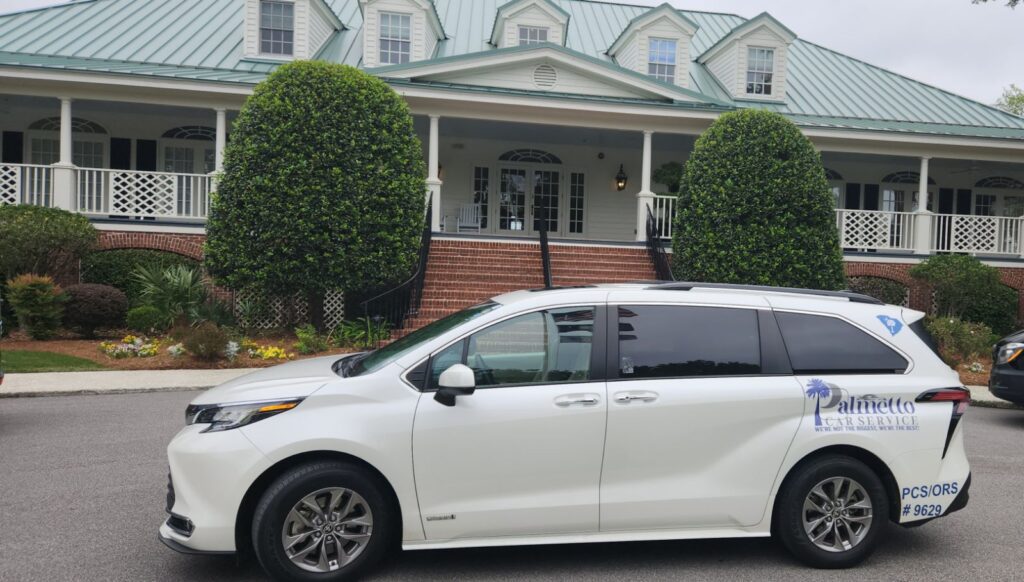 Traveling around the island is easy with Palmetto Car Service. At Palmetto Car Service, you can choose from various vehicles to make your trip easier. Whether you are a solo traveler or a large group, we have a car to suit your needs.
All our vehicles are skillfully maintained and regularly serviced so you can travel comfortably. Plus, all of our drivers are trained in providing excellent customer service.
So, check out Our Services and Book Your Ride today to make your visit to Hilton Head Island an unforgettable experience.
Key Note on "What is the Best Area to Stay in Hilton Head?"
Staying in Hilton Head is the perfect beach vacation experience. With its stunning beaches, breathtaking scenery, and an array of activities that suit all ages, everyone can find something to do and enjoy.
So, don't wait much and plan your next getaway to Hilton Head Island. Visit some or all of these 5 best areas to stay and explore everything the island offers. And for a stress-free trip, book Palmetto Car Service to help you get around. Share your thought about "What is the Best Area to Stay in Hilton Head?"