No matter how experienced you are in your business, you always get anxious about your next networking event. Therefore, you always strive to perform impressively and find a professional location for corporate events. Port Royal, a symbol of transcendent beauty and rich history, is also known for corporate travel. Business meetings, conferences, or entertaining new clients fuel your business progress. Picture this: Having all the overwhelming facilities and an outclassed destination but having no reliable transportation? What impression will it leave on your clients? Don't tremble with stress! Here you will get an extensive guide on all the business landmarks in Port Royal and how to get suitable transportation here.
Options for Corporate Transportation in Port Royal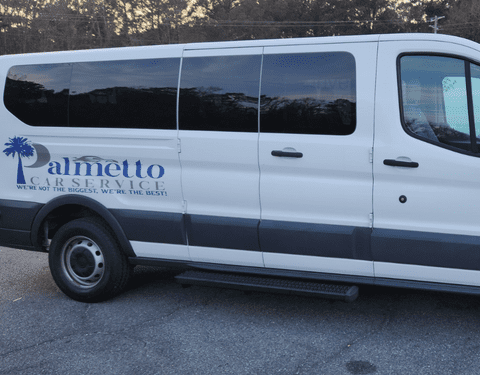 With its captivating history and vibrant atmosphere, Port Royal offers a range of corporate transportation options. Let's explore some options that can transform your travel experience into a pleasure ride!
Luxury Cars: Travel in Style and Comfort
Regarding traveling in utmost comfort, luxury cars are the go-to option for corporate transportation in Port Royal.
Picture yourself cruising through the streets in a sleek, elegant vehicle with plush leather seats, advanced climate control, and high-standard amenities. What a soothing view! Right?
Spacious SUVs: Perfect Partner For Team Travel
Spacious SUVs are the perfect fit for corporate professionals traveling with teams or carrying substantial luggage. These versatile vehicles offer ample room for passengers and belongings, ensuring a comfortable and fluent journey.
Executive Vans: Collaborate on the Go
Imagine brainstorming ideas, discussing strategies, or even conducting quick meetings en route to your next destination. When it comes to team travel, with executive vans, your team can collaborate seamlessly, maximizing productivity even during transit.
Chauffeur Services: Sit Back and Relax
For business persons seeking the utmost convenience and luxury, chauffeur services are a dream come true. With a dedicated professional chauffeur at your service, you can sit back, relax, and focus on what truly matters – your business objectives.
Their experienced chauffeurs are well-versed in the best routes and local traffic conditions, easily navigate through the city and help you arrive at your meetings on time without the stress of driving or parking.
Want to have a matchless fleet of transportation services from one place? Plan for your triumph celebration because Palmetto Car Service does the job without a glitch! We welcome you with open arms and a fleet of exceptional vehicles. Whether it's a plethora of services or luxurious treatment, everything is provided at your one call, so your clients demand more gathering and dealings with you without a doubt!
Place at Port Royal That Requires Corporate Transportation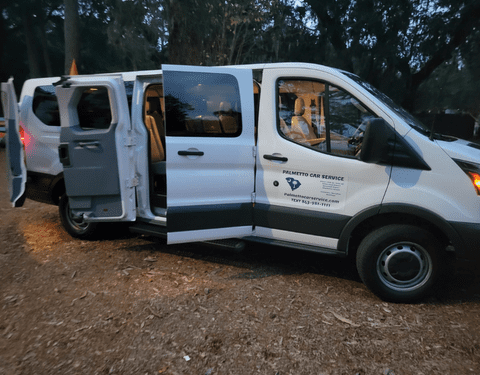 Port Royal Sound Foundation Maritime Center – Conference Venue:
Port Royal has a treasure of Conference Centres for business people where they can hold important events that decide their business fortune. Most venues are curated to handle large gatherings, including seminars and workshops, without hassle. One is the Port Royal Sound Foundation Maritime Center, one of the most picturesque business venues ever. Beautiful waterfront, elegant decoration, and soothing lighting are tailored for intriguing corporate events. Professional yet punctual transportation plays a cherry on top in driving you to events efficiently without worrying about parking and traffic navigation.
Port Royal Landing Marina:
Port Royal is a gateway to many business traveling routes, whether airway or marine. The city has been the junction of all national and international professional heads and has top-peak facilities. The same goes for Intracoastal Waterway, Port Royal Landing Marina, enticing business people with exclusive facilities for marine-based visitors with the Splashing and murmuring of waves. The Port Royal Airport Intracoastal waterway is central to starting business journeys and requires convenient corporate transportation for smooth proceedings.
Port Royal Farmers Market
Port Royal is an evergreen hub for all farmers and artisans to present their crafts, artisanal goods, and even tech products. One is Port Royal Farmers Market, where local vendors hold business events for exhibitions and trade shows to showcase cutting-edge crafts. You can rely on Corporate transportation in Port Royal to accommodate all the participants through exploring Port Royal to give them an enjoyable experience.
Historic Downtown Port Royal
Business districts are crucial to spread business networking and making a mark in financial growth. The historic downtown of Port Royal is the impeccable and vintage line of boutique shops, restaurants, and other professional services to ensure a thrilling and nostalgic atmosphere of corporate strength. Having good navigation and smooth drive on Luxury Sedans and chauffeur assistance there plays half a role in your professional image at networking events so you can confidently walk and lift your head high with no worries.
Port Royal Golf & Racquet Club:
Most corporate heads love having sports along with their business gatherings. The rustles of trees and breezy Port Royal Golf & Racquet Club has been the best choice for leisure and business-brimming activities. Three Championship Golf Courses, Tennis courts, and a clubhouse entails excitement yet give vibes of long-term business relationships. Transportation services that can provide space for all sports equipment and participants are vital to make the business partners feel important.
Marine Corps Air Station Beaufort:
Port Royal is the best place for the military corps to have professional gatherings with undying mannerisms. Marine Corps Air Station Beaufort gathers all corps heads to their spacious ground and highly professional attitude of station workers. The base has a great vibe of corporate proceedings and requires a loyal transportation service to efficiently travel to all defense contractors and government agencies.
Multiple Luxury Hotels and Resorts
Port Royal has a diverse web of luxury hotels and resorts that makes travelers vanish in the elegance and charm of the city. Couples Tower Isle, Jamaica Pegasus Hotel, Round Hill Hotel and Villas, Half Moon Montego Bay, and Sandals Negril Beach Resort and Spa are among the preferred choices for corporate people to hold business discussions with vibrant style. The world-class accommodation and amenities there don't make any business deal go down the drain. The prestigious corporate transportation in Port Royal plays the role of a sweet garnishing on the cake there, so the corporate partner finds no way to lose the business strings.
Key Note
Whether about Port Royal Sound Foundation Maritimes or the Historic Downtown area, luxurious yet professional chauffeur Services with spacious and comfortable corporate transportation in Port Royal significantly impacts corporate dealings. Palmetto Car Services makes the grand entry here with their proficient, trained drivers with top-tier vehicles that present an epitome of professionalism. So, are you having an upcoming meeting with your newly contracted clients? You have stumbled in the right place! Bring your requirements, and we serve you more than you expect, only for your unparalleled performance!