Unpack your belongings, wear your beach clothes, and slip through one of the most breezy towns. Being a hub of two dozen golf courses and 12 miles of beaches has weaved a trail for tourists. However, you would want to avoid becoming a roaring lion out of frustrated traveling or missing out on the riddles of the new city. Travelers and the city's citizens require trustworthy yet impeccable transportation services. It will assist you in stepping out of stress and give you room to get vowed on a picturesque island. We will steer you through other reasons to grab a car service in Hilton Head and the best car service in the Lowcountry.
Reasons You Need A Car Service in Hilton Head
Here are the undeniable reasons why you should consider getting a car service. Trust me; it's a SMART move!
Airport transfers
Picture this: you step off the plane, and, voila, a car service is right there waiting for you. No more stressing about renting a car or waiting for taxis.
You'll have convenient and reliable transportation to and from the airport with a car service.
It's a smooth and stress-free start to your trip.
Touring and Exploration
Hilton Head has breathtaking beaches, golf courses, and nature reserves.
A car service makes it super convenient to visit these fantastic places without parking or navigation headaches. The driver can also give you insider tips and take you to the best spots, maximizing your fun time.
Important Occasions and Gatherings.
Whether it's a fancy wedding, a business conference, or a relaxed social gathering, arriving in style is a must. And guess what? A car service can make that happen. You'll make a grand entrance and have safe, reliable transportation for you and your crew.
Professional Trips
If you're heading to Hilton Head for work, a car service is like having your assistant. You can focus on preparing for important meetings, making calls, or catching up on work while chauffeuring around.
It's a professional and comfy environment that lets you stay productive on the go.
Ease and Adaptability
Having a car service at your fingertips means you can explore the area hassle-free throughout your entire stay in Hilton Head.
Explore the area, visit the best restaurants, go shopping, or attend events without worrying about parking or finding a designated driver. You'll get to customize your itinerary just the way you want it.
Security and Assurance
Opting for a car service adds an extra layer of security, especially when you need to become more familiar with the area.
Those professional drivers know their stuff regarding local traffic laws and road conditions.
That way, you can relax, unwind, and enjoy your time in Hilton Head without a care in the world.
Luxury and Coziness
Feeling like a movie star stepping out of a blockbuster is always a good idea, right? With a car service, you'll experience that VIP treatment every time. Their vehicles are always well-maintained and equipped with luxurious amenities. You can expect plush seats, perfect climate control, and even some entertainment options.
Bonus: Car service drivers often know Hilton Head like the back of their hand. They'll ensure you experience the absolute best that Hilton Head offers.
High Standards and Professionalism
You expect nothing less than top-notch professionalism when you book a car service. From the moment you make the reservation until you reach your destination, you'll receive reliable and courteous service from well-trained drivers. It's all about making your journey fun and memorable.
Which One is the Best Car Service in Hilton Head?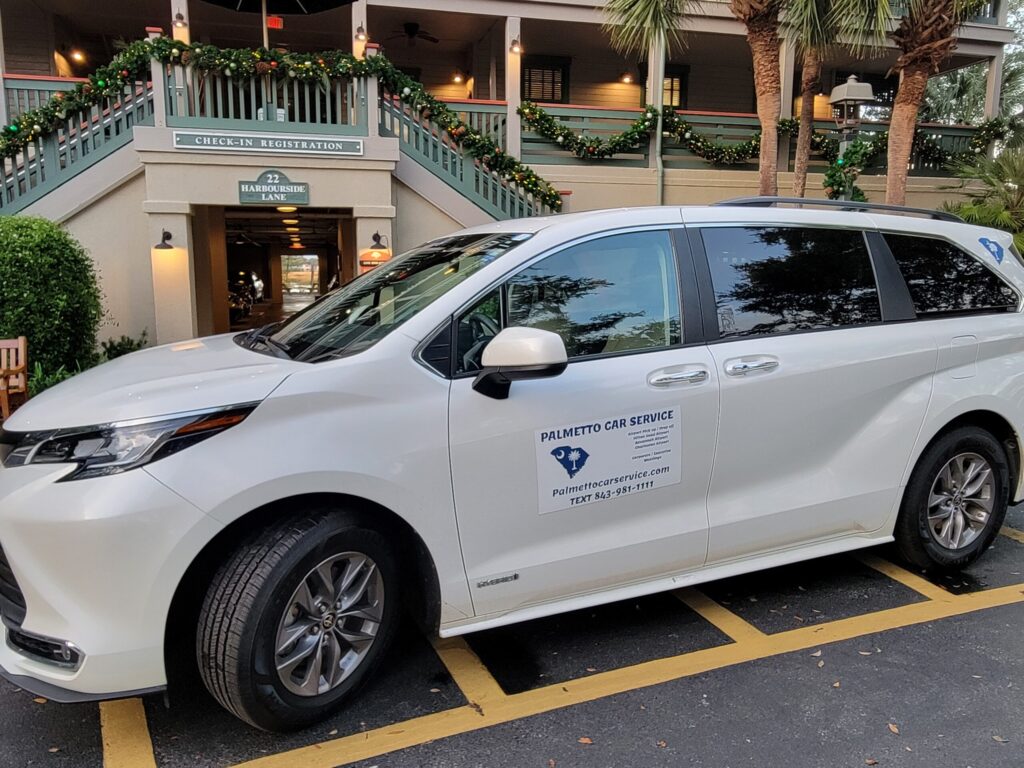 Dive in to know the best car service in Hilton Head:
Palmetto Car Service
Palmetto Car Service keeps your travel experience from going down the drain. They embody your requirements and their values to bring you a cluster of features and services with a combination. With incomparable customer support, Palmetto Car Service rules the travel freaks after having the best car service in Hilton head reviews.
We strive to put corporate and leisure travelers on a pedestal to accommodate private tours or weddings on any occasion. Stacking on various types and sizes of vehicles, we offer these car services:
Airport Transportation
Traveling to your dream countries causes a lot of stress along with excitement. Where will you stay? How will you travel around when you don't even know the road name of a city, let alone the directions? Similarly, being new to Hilton Head will drive you crazy to reach all the inciting destinations requiring safe yet cozy transportation from Savannah airport to Hilton Head. The professionalism of the drivers at Palmetto, while accommodating with all new marks, won't leave you feeling stranger in the new city.
Corporate car services
Being a businessman requires being punctual, as the golden rule of professionalism. But we also make sure to be the medicine for this pain by leaving you at your destination at the right time, even when your alarm gets late.
Having a sales meeting or wanting to paint a positive picture in front of your new client in the city – We got your back. Book a ride, and we will pave the roads for you that will lead to your success.
Group transportation
Got a bunch of friends to enjoy the spectacular views of Hilton Head but need a vehicle to fit everyone in? We hear you. Therefore, Palmetto Car Service also provides chauffeur and shuttle services at a low cost to bring you an essence of style and comfort.
Whether you want to enjoy a dine-out of sizzling Bar B Qs or play on the beach under the bright sunlight, we land you the appropriate vehicle for your group size. Skip the headache – Enjoy the surroundings of Hilton Head without wasting time.
Customized car transportation
Do you have special guests and want to provide them flawless services while traveling too? Don't Panic! We lend you a hand while fulfilling all your customizations and transit you to a tranquil environment.
Whether it's refreshment, high-quality music, an air conditioning system, or extra attention to the sitting area, we take notes and turn them into a noteworthy drive.
Wrap Up:
Reading about the conveniences you can add to your bucket by getting a car service in Hilton Head must've excited you for your impending travels. After all, you can save on many crucial factors; your time, fare, planning, and energy. Moreover, you are pampered with numerous benefits such as luxury, ease, accommodation, and whatnot. Isn't it a big bargain?
Did you say yes? Then book a premium and best car service of Head Hilton from Palmetto Car Service and brace up for the freshening yet surreal journey.